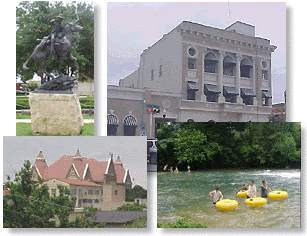 The gateway for exploring the Texas Hill Country
San Marcos is a great tourist getaway from the big city hustle and bustle, yet near to lots of fun things to do in the central Texas Hill Country. The city is home to the state's third largest university, Southwest Texas State University.
| | |
| --- | --- |
| Tubing down the San Marcos River | Canoeing on the river |
The San Marcos River, with its crystal clear spring fed waters, offers canoeing, fishing, scuba diving, snorkeling, swimming, and tubing. Tourists love the world-class shopping at the largest outlet malls in the Southwest nearby. It is no wonder so many tourists come to this gateway to the Hill Country, and return often.

San Marcos is a vibrant growing city with a population of over 40,000. The city is an easy drive from any of the major cities in Texas. San Marcos is almost the half way point between two of the major cities on the IH-35 corrider; Austin is 29 miles to the north and San Antonio is 50 miles to the south. Dallas and Houston are about a four to five hour drive away.
| | |
| --- | --- |
| Hays Country Courthouse | Charles S. Cock House Museum |
San Marcos has a great historic district.
Take a walking tour or try the trolley tour.

Want to play a little golf?

You will like the local golf courses. There are several golf courses within a few miles drive.

Looking for some great food?

San Marcos has many restaurants in the city area. Choose from restaurants along the river banks to places in the middle of town.

You will find all types of restaurants in San Marcos: Mexican, Italian, Chinese, Steaks, BBQs, Pizza, fast food and more.

Joe's Crab Shack is conveniently located near the campus.

San Marcos River Pub & Grill is located along the river bank by the San Marcos River dam and the challenging "Chute."

Stay in a Historic Bed & Breakfast Inn in the Area...

The Hunter Road Stagecoach Stop

Lovingly restored, this historic inn will enchant you with its ambiance of warmth, comfort, and style in rooms furnished with primitives befitting the era.
| | |
| --- | --- |
| Millie Seaton's Collection of Dolls & Toys | Aquarena Center's glass bottom boats |
Tourist Attractions in the Area:

Aquarena Center
Ride the glass bottom boats and see the plant life and wildlife species that live in the crystal clear San Marcos River.
Wonder World Park - San Marcos, Texas
Explore an earthquake-formed cave and ride to the top of the Tejas Observation Tower. It is the most visited cave in Texas.
The Commemorative Air Force Exhibit
The World War II artifacts museum is located in a huge wooden World War II hangar and contains weapons, captured documents, uniforms, photos, radios, cameras and aircraft equipments on loan or donated to the Commemorative Air Force.
The LBJ Museum at San Marcos
A museum that reflects on the life and times of President Lyndon B. Johnson.
Wittliff Gallery
The Gallery brings together a comprehensive range of work from the region that represents the history of photography from the 19th century to the present day, with an emphasis on contemporary imagery.
Birding in San Marcos Texas
Information on bird watching in the San Marcos area.
Schlitterbahn Waterpark Resort
America's most favorite Waterpark resort in nearby New Braunfels.
Historic Gruene
Tourists' favorite historic town. Go there once, and you will want to go back.
Canyon Lake
Enjoy the water sports available at this 80 mile lake shoreline.
Touring Texas
This web site provides tourist information for the state of Texas with links to over 100 cities and towns throughout Texas.
Natural Bridge Caverns
Texas' largest caverns. Located west of New Braunfels, Texas.
Natural Bridge Wildlife Ranch
Take a safari drive thru Texas style. Located west of New Braunfels, Texas.
| | |
| --- | --- |
| Water Dam by Rio Visa Park | Dr. Eli Merriman Log Cabin - 1846 |
Things to do in San Marcos:

The crystal clear water of the San Marcos River offers perfect tubing, swimming, and sunbathing.
Take a walking or trolley tour of historic San Marcos.
Enjoy nature watching and photography at its finest.
Take the glass-bottom boats tour at Aquarena Center.
Shopping at the world-class factory outlet stores and local tourist stores.
Antique shopping in the area - some of the best in Texas.
Dining at the river front or downtown restaurants.
Visiting Art Centers and Museums.
A "must" on any tourist's list is the 246 acres of parks with the San Marcos River running through 150 acres of this parkland.
New Braunfels and Historic Gruene are only 30 minutes away.
Canyon Lake with its 80 miles of scenic shoreline is only 45 minutes away.



Other Important Links:
City of San Marcos
Southwest Texas State University
San Marcos Churches
San Marcos Daily Record
Tube Rentals - Lion's Club
Golf Course Information
If you know of a web page that should be included on this
web site, please email us at info@sanmarcos-tx.net.
More of Our Web Pages:

Hotels and Lodging in the U.S.
Touring U.S.
Touring Oklahoma
Touring California
Colorado Web Page
Touring Texas
Highland Lakes Web Page
Highland Lakes of Texas
Austin Web Page
San Antonio Page
Houston Page
The Dallas/Ft. Worth Page
Real Estate in Texas
Branson Page
Corpus Christi
Texas Cabins
Texas Lake Houses
Salado Web Page
Fredericksburg Web Page
Hotels and Motels in the U.S.
Texas Lakes
Texas Hill Country
Marble Falls
Texas Bed and Breakfast Inns
New Braunfels
Kerrville
Lake Travis
Lake Buchanan
Lake LBJ
Canyon Lake
San Marcos
Vacation Rentals in Texas
Vacation Cabins in Texas
Vacation Condos in Texas
Vacation Houses in Texas
Texas Tourist Guides
Galveston
Burnet Texas
Fayetteville Texas
Cabins in the Southwest
Central Texas - South
Highland Lakes Web Pages
Winter Texans
Fishing Guides in Texas
Horseshoe Bay Real Estate
Fishing Guide Texas

Visitors since 8/15/03

.