Visitors' and Tourist Guide for Salado, Texas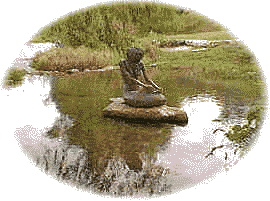 Sirena Statue in Salado Creek
Salado, Texas is an historic, tourist town that is famous for its lodging and shopping. Salado's bed and breakfast inns are some of the finest in Texas. Shopping in Salado will give you a large selection of gifts, clothing, jewelry, art, collectibles, antiques, handcrafted items and more from over 50 shops. There are over a dozen places to eat in Salado. Looking for a place to have a wedding, meeting, or an event? Salado can accommodate you in style.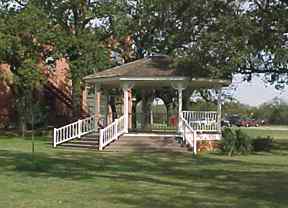 The Salado Gazebo
One of the highlights of any trip to Texas is to stop off in the very popular tourist town of Salado. Located on Interstate Highway 35, Salado is on the way from Dallas or Fort Worth to Austin and San Antonio. Salado is only about 48 miles north of Austin and 18 miles south of Temple. You will find the charming village of Salado hard to resist.
Salado has it all....

Whether you enjoy antiques, fine gift shops, beautiful countryside or a fine meal, you will be very pleased with Salado. Spend the night in one of Salado's charming bed & breakfast inns, take a stroll through the village or go wading in Salado Creek. You will enjoy the change of pace and make a few new friends, too. You are always welcome in Salado.

For lodging and shopping, Salado is a lot of fun!
Visitors enjoy touring the town of Salado, looking at the historical buildings and admiring the restored bed & breakfast inns. Salado is full of Old West history.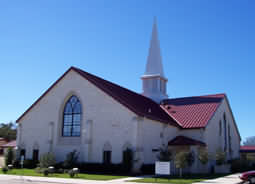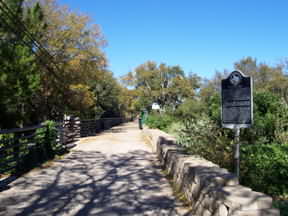 A church in Salado and Dodd's Creek Bridge
Salado is a small tourist village with a population of around 900 people. You will find the pace is slow and easy going. The people are friendly and you will feel very welcome in Salado. The scenery is beautiful along Salado Creek. You are invited to come on out and spend some time in this charming village.


Central Texas Area Museum


Salado Civic Center

History | Lodging | Dining
Facilities for Weddings, Meetings, etc.
Texas Tourist Towns Home Page
Touring Texas Home Page
Visitors since 9/8/05: