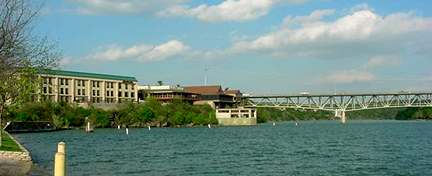 Lake Marble Falls with waterfront hotel and restaurants.
The town of Marble Falls is located on Lake Marble Falls and is only about 45 miles from Austin. Many residents work in Austin and commute to work from Marble Falls. San Antonio is only 85 miles to the south for additional shopping and sight seeing. It is a pleasant, scenic drive straight down Highway 281.


Lakefest Drag Boat Races every August
on Lake Marble Falls in Marble Falls

You will find plenty to do in the Marble Falls area. Boating, fishing, golf, hunting, camping, swimming, sight seeing and shopping are just a few of the things to look forward to. You will also enjoy the friendliness of the local people.


Waterfront Restaurants

Before the dam was built to form Lake Marble Falls on the Colorado River, there were falls of marble giving the name Marble Falls to the city. The falls are now under water and only visible on those rare occasions when LCRA lowers the lake for repairs.


Miniature Golf on Hwy 281

A fast growing town of 5,000, over 10,000 population in a 7 mile radius, Marble Falls is going through a period of prosperity and growth. Because of the growth, there are not as many homes available for sale or rent in town right now. Marble Falls is in a stage of development now that offers some of the best of the big city life without the disadvantages of the fast pace and traffic problems of Austin or San Antonio. It is an interesting mixture of a rural lifestyle with big city conveniences only 45 minutes away.
Want to see the latest movies?

The ShowBiz Cinema 8 is a multiplex theatre in Marble Falls. It has 8 screens and shows the latest, most popular movies. They are located next to WalMart on Hwy 281.

For movies and show times, click here.
Marble Falls Lakeside Park

Marble Falls has two very nice parks. One is on the creek and the other is on the shore of Lake Marble Falls.

Both parks are large enough for reunions, events, or just having a lot of fun with friends and family.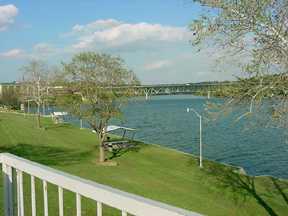 Lakeside Park is the perfect place for a picnic while watching the boating activity on the lake and enjoying the gentle lake breezes. Want to do a little swimming in the lake. Here is the perfect place to do it.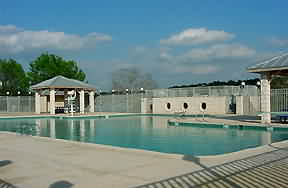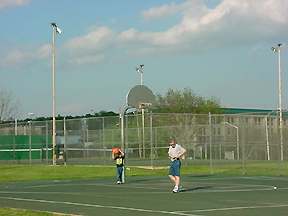 Marble Falls Lakeside Park also has a great swimming pool, and tennis and basketball courts. There is also a pavillion for events, a boat launch, covered picnic tables and plenty of room for spreading out on the lawn and enjoying the lake.

Marble Falls is the "Hub" of the upper Highland Lakes area when it comes to shopping. You will find many restaurants, gift and antique stores, a 24 Hour WalMart Super Store, a very large and modern HEB Grocery Store, Home Depot, realtors, auto dealers and repair shops, 2 movie theatres, an RV park, and motels.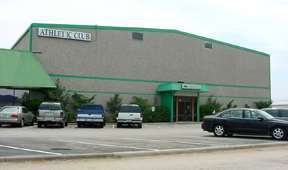 Athletic Club
Dining Out in Marble Falls:
You will find plenty of restaurants in Marble Falls. Most of the tourists always stop at the "World Famous" Blue Bonnet cafe for one of their great breakfasts or home cooked lunches. The Blue Bonnet Cafe has been serving meals in Marble Falls for over 70 years and Texas Highways Magazine selected them for the best breakfast in Texas and in the top ten restaurants in Texas.

Other restaurants in Marble Falls include two waterfront restaurants, two Italian restaurants, two Chinese restaurants, two B-B-Q restaurants, four Mexican restaurants, a steak and seafonnd restaurant, and a catfish restaurant. Fast food restaurants include: Subway, McDonalds, Wendys, WhataBurger, Jack-In-The-Box, Dairy Queen, Church's Chicken, Sonic, Schlotsky's, Taco Bell, Taco Casa, Mr. Gattis, and Pizza Hut.



Services Available in Marble Falls:

Blue Bonnet Cafe
This cafe is "Truly World Famous" for its home style cooking. A favorite with both the tourists and the locals.

Lake LBJ Marina and Yacht Club
Romantic luxury waterfront rental cabins, water park, restaurant grill, boat sales and rentals, boat lifts for rent. Located on Lake LBJ only 5 miles south west of Marble Falls.

Lone Star Park Models
If you have land and are wanting to put a cabin or cottage on the land, park models are the quickest and easiest way to go.

Lakeside Vacation House
This lakefront vacation home is for rent by the day, week or longer. It will sleep up to 8 people. Just minutes from Burnet, Marble Falls and Kingsland. Winter Texans welcome.

Motels in Marble Falls
You will find very comfortable lodging in the motels in Marble Falls.

Events in the Highland Lakes Area
PHOTOS OF CHRISTMAS WALKWAY OF LIGHTS

For more information on Marble Falls you can email us at:
info@touringtexas.com
Links to neighboring towns' web pages:
Kingsland, Burnet, Llano